In 1982 he was appointed Principal Trombonist of Great Britain's City of Birmingham Symphony Orchestra by Chief Conductor Sir Simon Rattle who declared him "not only one of the most able trombonists in my experience but also an intelligent and wide-ranging musician". Prior to coming to Britain he held the position of Principal Trombonist with both the Radio Stuttgart Orchestra and the Jerusalem Symphony Orchestra. Since 1994 he has been the artistic director of the international touring ensemble, Posaune Voce Trio, which specializes in the performance of newly discovered baroque works featuring the alto trombone in a solo role with voice. In the U.S.A. he was a member of the popular rock band the Atlantics, performing for such artistes as Michael Jackson, Olivia Newton-John, Natalie Cole, Paul Anka, the Drifters, Pearl Bailey and Andy Williams. He is much in demand as a guest soloist, having appeared with the U.S. Navy Band, the U.S. Army band, at the Smetana International Music Festival, the Malta International Arts Festival, the Dvorak Summer Festival, the Edinburgh Festival and the London Barbican, as well as presenting recitals and master classes in Vienna, Prague, Budapest, Krakow, Bratislava, Kiev, Cardiff, Oxford and Washington D.C. Dr Shifrin has premiered a number of works, including the first American and British performances of the Leopold Mozart "Concerto for Alto Trombone".
Moreover, with a PhD in musicology from Oxford University, Ken Shifrin was the recipient of a British Academy Humanities Research Board's Scholarship and the Oxford University Press' Music and Letters Award, as well as being named the Halstead Scholar by the Board of the Oxford University Music Faculty. Since 2000 he has been a British Exchange Scholar for the Czech Academy of Science in Prague and has presented papers at musicology meetings on both sides of the Atlantic. He is the managing director of Virgo Music Publishers and a clinician for Voigt Handcrafted Brass Music Instruments of Markneukirchen, Germany. Dr Shifrin is listed in the International Who's Who of Music.

In 2005 the Lord Chancellor of Great Britain appointed Ken Shifrin a Magistrate for England and Wales.
Dr Shifrin can be contacted c/o Nigel Pennington, Manager, at Kvalita@aol.com or Orion House Artists Management at patricia@orionhouse.net.
KEN SHIFRIN, SOLO SELECTIONS

Becaud/Diamond, arr. R Willis: Love on the Rocks
Ravel: Solo from Bolero
Live in concert with the City of Birmingham Symphony Orchestra,
Sir Simon Rattle conductor
Ravel: Pavane pour une Infante Defunte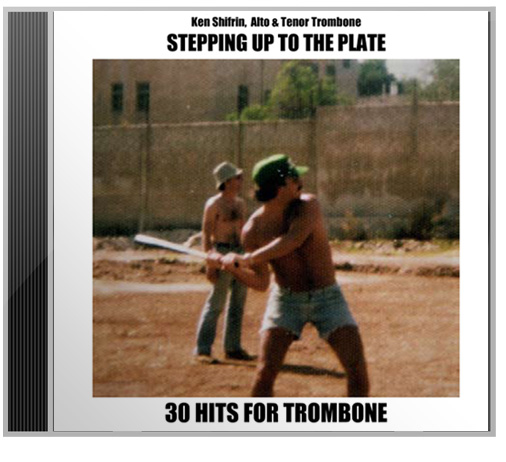 CD 1
1 - Pavane, M. Ravel for Trombone and Piano
2 - Sonata, J. Paisible for Alto Trombone and Piano LIVE
3 - Largo, A. Vivaldi for Trombone and Piano
4-7 - Concerto, G.F. Handel for Trombone and Piano
8 - Panis Angelicus, C. Franck for Trombone and Piano
9-11 - Sonata, P. Hindemith for Trombone and Piano
12-14 - Symphony for Trombone and Orchestra, E. Bloch (JSO)
15-17 - Concerto No.3, A. Hohvhannes, with orchestra (JSO)
18 - "Duelling Trombones", M. Haydn with Mike Hall LIVE
19 - D to A for Trombone and Computer, D. Maves LIVE
CD 2
1-2 - Concerto for Trombone, G.C. Wagenseil, with Duke University Wind Ensemble LIVE
3 - Bolero, M. Ravel: Trombone Solo (Simon Rattle, CBSO) LIVE
4 - Symphony No. 3. G. Mahler: Trombone Solos (Bertini, JSO) LIVE
5 - Symphony No. 3. G. Mahler: Trombone Solos (Simon Rattle, CBSO) LIVE
6 - Symphony No. 7, J. Sibelius: Trombone Solo (Simon Rattle, CBSO)
7 - Romeo and Juliette, H. Berlioz: Trombone Recitative (Bertini, JSO) LIVE
8-9 - Zwei Aequali, A. Bruckner, CBSO trombone section
10 - Peccatorum and Virgo Prius, J.J. Fux, Posaune Voce Trio with US Army Orchestra LIVE
11 - Hark How All Things, H. Purcell, Posaune Voce Trio LIVE
12 - Papageno Duet, W.A. Mozart, Posaune Voce Trio LIVE
13 -Tower Sonata, G. Reiche, English Trombone Consort
14 - Sonata, D. Speer, English Trombone Consort
15 - Stardust, H. Carmichael LIVE
16 - Love on the Rocks, N. Diamond for Trombone & Piano
17 - Brother, Can You Spare a Dime? E. Yarburg, Jay Gorney for Trombone & Piano LIVE
18 - If, D. Gates, English Trombone Consort
19 - Yesterday, Lennon-McCartney, Birmingham Trombone Choir LIVE
20 - Something, G. Harrison, Birmingham Trombone Choir LIVE
21 - Lassus Trombone, H. Fillmore for Trombone and Piano
22 - Shoutin' Liza Trombone, H. Fillmore for Trombone and Piano
23 - Teddy Trombone, H. Fillmore for Trombone and Piano
" 'Thirty Hits' displays Shifrin's versatility, impeccable technique, and expressiveness, with equal command of the alto and tenor trombone, as a soloist, orchestral, and chamber musician. A welcome addition to the library."
INTERNATIONAL TROMBONE ASSOCIATION JOURNAL
"Not only is he one of the most able trombonists in my experience but also an intelligent and wide-ranging musician."
SIR SIMON RATTLE
"The soloist Ken Shifrin played brilliantly with almost unbelievable beauty of tone, artistry and elegance. A seemingly effortless rendition full of effects, technical bravura and feeling."
THE VIENNA KURIER
"Bolero, Mahler 3 - bravo! Very impressive, especially all the alto trombone ornaments and lip trills all over the joint."
GENE POKORNY,
Tubist, Chicago Symphony Orchestra
"Your CDs are great!"
ROBERT KOZANEK
Principal Trombone, Czech Philharmonic Orchestra
"My goodness, what beautiful playing. Ravel and Vivaldi are absolute perfection, one of the best Hindemith's I have ever heard. It is a treat to hear you play in so many settings. Bravo."
MIKE HALL
Associate Professor of Trombone/Euphonium Old Dominion University, Conn-Selmer performing artist
"Ken Shifrin demonstrated outstanding instrumental ability as well as excellent qualities of musicianship."
CHARLES DUTOIT
"A one-man tour-de-force."
COLONEL L.B. SHELBURNE, Jr
United States Army Band, Leader and Commander
"Wonderful! It's one of the best Bolero's I've ever heard.
Reliably played solo, beautiful tone, admirable fluency."
MIROSLAV TUTKO
Principal Trombone, Moravian Philharmonic
"An extremely good performer."
IANNIS XENAKIS
"A superb performance by this marvellous player."
JOSEPH HOROWITZ
"Splendid trombone playing."
THE GUARDIAN
"Elegant and virtuoso trombone playing."
THE PRAGUE POST
From concertos to solos in chamber and orchestral music, from classical music to jazz, from unaccompanied solos to duets with computer accompaniment -- with half of the takes "live" - this 2 CD set is now available from Virgo Music Publishers
Email: virgohouse@aol.com